A baseball player must be determined and competitive to play at the collegiate level. He must be driven, focused and committed to his sport. He must be strong and wise, disciplined and adaptable. He must be versatile, have strong hand-eye coordination and stellar throwing and catching abilities. He must be a team player and possess an undying love for his sport.
Tom Blandini ('20) is an individual who expresses the criteria for a successful collegiate baseball player. He is versatile, passionate and a team player, and he has a drive for the sport like no one else.
Blandini plays third base for the Penmen and is the team's leadoff hitter. He also has experience playing almost all nine positions in baseball, having played shortstop, outfield and infield throughout his career.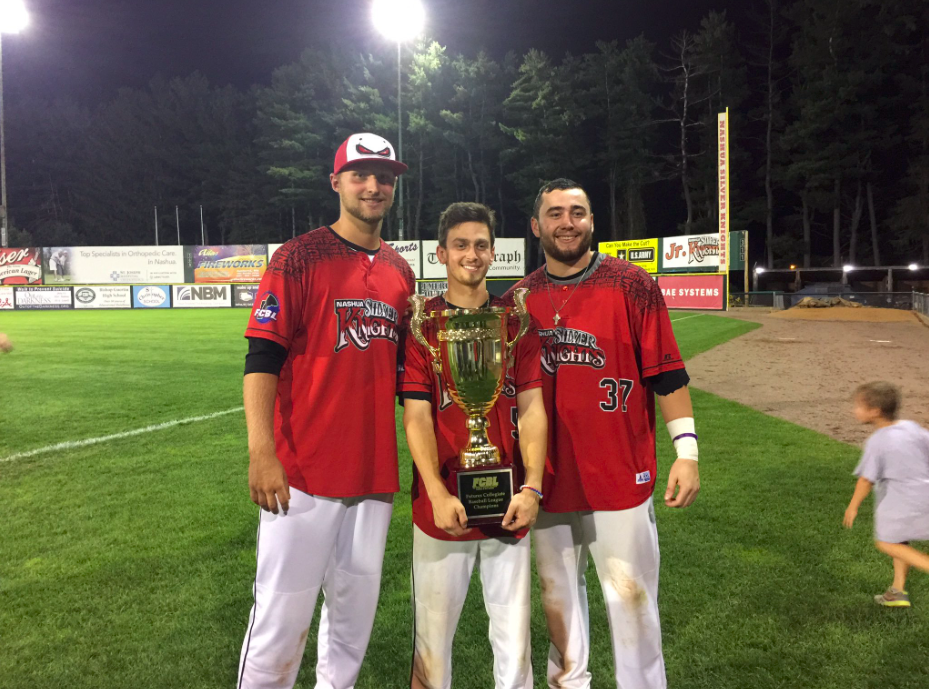 His baseball career began when he was a child. His childhood was devoted to baseball. He played year-round and was frequently on the road traveling to games. He played for the Concord Cannons during his youth and later played four years at Bishop Brady High School in Concord.
During summers when he is not at SNHU, Blandini plays for Nashua's Silver Knights summer league team and this summer he led them to their fourth Future League Championship Title.
Blandini had many opportunities to improve his physical skills through playing a lot of baseball throughout is life. He said the best way to excel in baseball is to practice and play a lot. Throughout his career, he has made it a point to always attend games and never miss a practice, even during times when most of his teammates did.
"I played a lot of baseball," Blandini said reflecting upon his earlier experiences playing baseball. "This involved both games and practice. My parents always instilled in me [the idea] that I never miss practices or games. Doing so, you will let your team down and yourself. I'd show up to practice in snowy weather when most others didn't."
Penmen teammate and shortstop, Kyle Pangallo ('18), admires Blandini's dedication to the sport and his team. He is impressed by his tendency to always be the first to practice and his willingness to "always look for ways to improve."
"Tom is extremely talented, but the reason he is so successful is because he is constantly looking for ways to improve," said Pangallo. "He shows up before practice every single day to hit. Whether it is an hour before or 3 hours before, he has worked extremely hard to become the player he is. Tom has an extremely bright future on the diamond and off."
Blandini's family members have always been big supporters of his baseball career. His family gave him the opportunity to play summer ball, AAU teams, camps and encouraged him to get out on the field and play, which he said he is "really thankful for." Blandini's grandfather, Vincent Blandini, is a particularly big supporter of his baseball career.
Vincent played baseball as a kid during the 1950s as a left-handed centerfielder in Boston. He had a hitting average of .400 and caught the attention of scouts from MLB teams. He had an offer from the Red Sox but chose to pursue a working career instead after realizing the difficulty of making a living during his era and wanting to support himself and his family. Recently, Vincent gave Blandini a baseball from a game in which he hit two home runs, and Blandini was honored and proud to have received it from such a talented and well-respected player. When Blandini started playing baseball as a kid, Vincent was always there to support him, much like he does now. When Blandini would visit his grandfather as a young boy, he would give him pointers to improve his swing. These pointers would include "swing level, don't dip your shoulders, and have quick hands." Because he loved baseball so much, he wanted to see his grandson succeed on the field, much as he did during the '50s.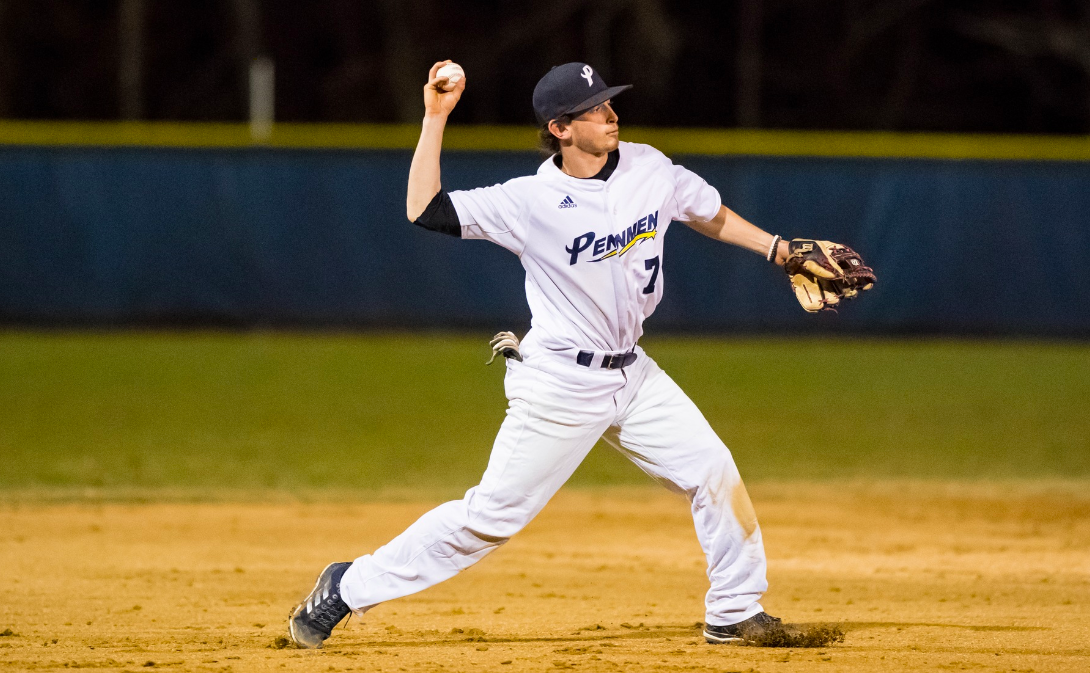 During Blandini's junior year at Bishop Brady, the opportunity to further his baseball career presented itself. He was encouraged to attend a summer baseball clinic at Penmen Field that was officiated by SNHU's head baseball coach, Scott Loiseau. This clinic opened many doors for Blandini, including the one to his ultimate goal: playing college baseball. Coach Loiseau was impressed with Blandini's talent and offered him a position on the team starting with the 2016-2017 academic year. He loved the program and dreamed of playing college ball, so this was an opportunity he could not turn down.
"I chose this school because I love the coach," said Blandini of Coach Loiseau. "I love playing for him. He expects a lot out of every player and focuses on everyone. Every day he's always locked in. It's great to be around him. I also love the winning mentality here. We always win every year so I was like 'I want to be on a winning team.' It's business every day."
Now in his second season, Blandini has made a tremendous contribution to the Penmen. He has made 46 hits, 25 runs, including one home run and has a hitting average of .366.
"Tom is a great hitter," said teammate and outfielder, Caleb Potter ('18). "He contributes through his consistent hitting and athletic defense on the field. He hits with a simple approach and gets the job done."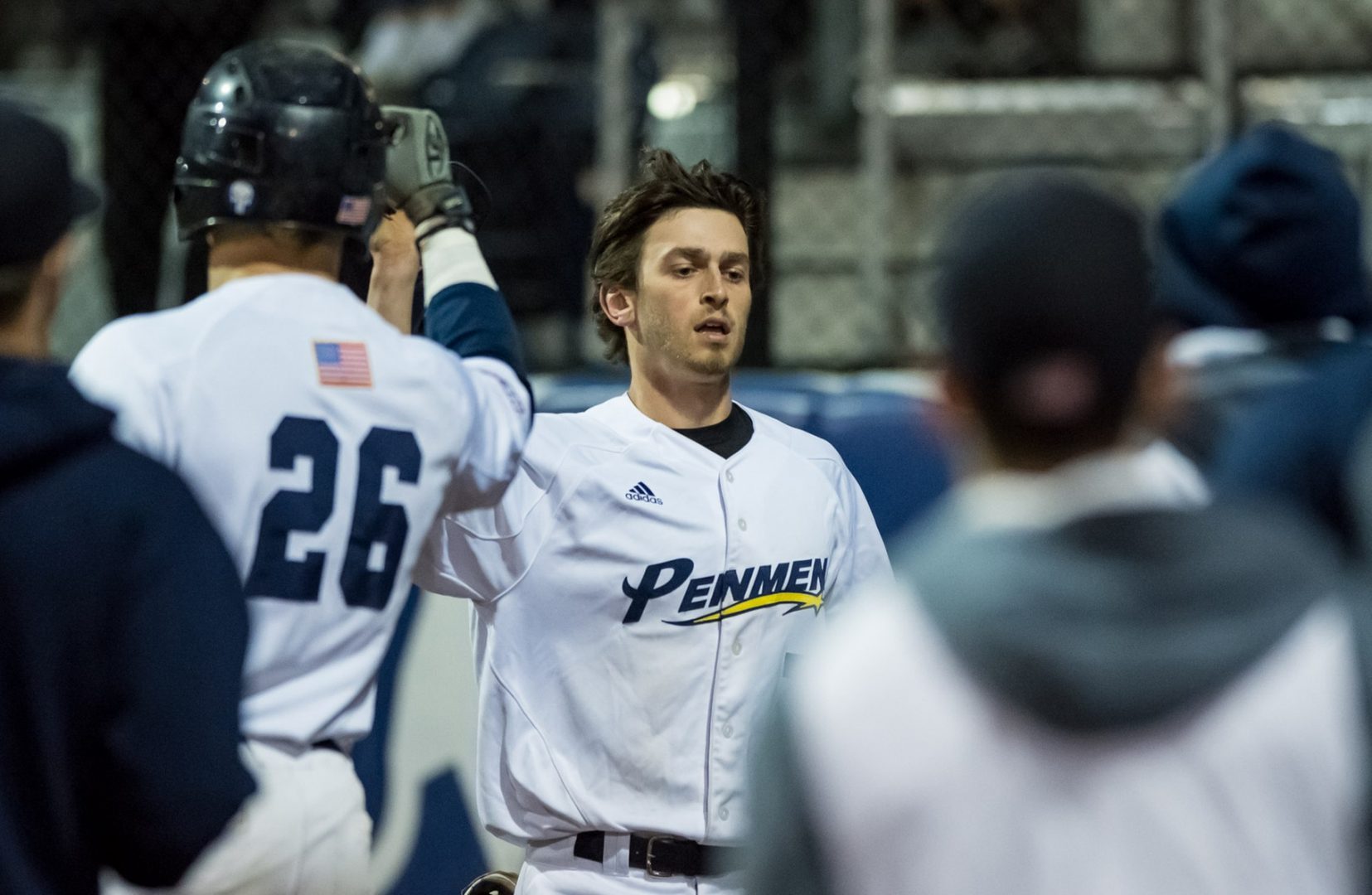 Not only does Blandini excel on the field, he excels as a member of a team. He is a team player who cares about his teammates and will do anything to boost the chances of his team winning.
"I first want to do everything I can to help my teammates and team win," said Blandini. "We all go through slumps but we pick each other up when we are down – that is what it is like on a good team. Without the support of your teammates, it is really hard to be successful. I just want to go out every day and do the best I can. I just need to continue to work hard and give it my all every game."
"Tom plays for the team," Pangallo said of Blandini. "He shows up every single day knowing that baseball is a team sport. He always puts the team before himself. Tom does everything in his power to give the team the best chance of winning. He does not worry about how he looks or what people think. He simply shows up and does his job no matter what it takes. That is why he is such a great teammate and is very fun to play next to."
Blandini is an important asset to the Penmen and has demonstrated great success on the field and has undergone much training to excel at his sport. He has learned a lot about himself through playing baseball and continues to develop his skills for the future. He is a team player and determined to play. He is disciplined and wise and an athlete whose passion, adaptability and undying love for the sport have allowed for him to achieve his goals of succeeding at playing collegiate baseball.