Partnering with the NH Coalition Against Domestic and Sexual Violence, the Deborah L. Coffin Women's Center brought "The Vagina Monologues" to SNHU for what Women's Center Director Brooke Gilmore believes to be the first time on Friday, February 23 from 8-10 p.m. It just so happened that this year also marked the 20th anniversary of "The Vagina Monologues."
Tony-award winning author, Eve Ensler, conducted a series of interviews with 200 people to address the taboo topic of vaginas and turned these interviews into dramatic performances.
"This play delves into consensual and nonconsensual sexual experiences, topics of body image, genital mutilation, direct and indirect encounters with reproduction, sex workers and several other topics through the eyes of women of various ages, races, sexualities and other differences," Event Coordinator Dee Dube ('18) said.
The Last Chapter Pub quickly became standing-room only with more than 70 people in the audience, and when Dube asked everyone who had never attended a showing of "The Vagina Monologues" to raise their hands, almost everyone's shot up.
"V-Day [the organization that runs the Vagina Monologues] gives you a script and we're not supposed to alter it in any way, so I didn't take anything out," Dube stated. "Everything in the script was read by someone." Performers had a say in which monologues they wanted to read, and memorization was not a requirement; for the most part, performers read from their scripts.
"I'm really thrilled that our Women's Center decided to host it because I think it is really important to empower our students to speak up," Assistant Dean of Students Meagan Sage said.
The 17-act play was performed by 13 members of the SNHU community, including students, staff and faculty, who auditioned for and participated in the monologues. Some performances united performers, and others required only one person.
Sabrina Disordo ('21), a Generation Equality (GE) member, did both. A member of the trio that opened the show, she also performed alone for the reading of "Skirt," the monologue that initially drew her in the most.
"It covered the idea that people think rape is a problem of the victim," Disorder said. "It's not. It covers how you can be empowered by something that people would slut-shame you for. That shouldn't be a thing. There was just so much energy and power behind it, and I knew it was something I had to do."
Representatives from GE were present and the Wellness Center staff was there for emotional support. Goodies including pins and chocolate vagina pops that were distributed.
"I thought that people were going to walk out," Disordo said. "But people were laughing along. People were ecstatic, and I was just so surprised that there were even guys in the crowd and they enjoyed it."
David Maxim ('21) said "I thought it was great," and enjoyed how the performances help "deconstruct" the stigma.
His friend, Julia Brau ('21) added, "it's part of your body, and it should be, I guess, celebrated as it is."
Sage found the audience to be very supportive. Though she's worked at other colleges and universities that have hosted "The Vagina Monologues," Sage decided to perform in them for the first time this year.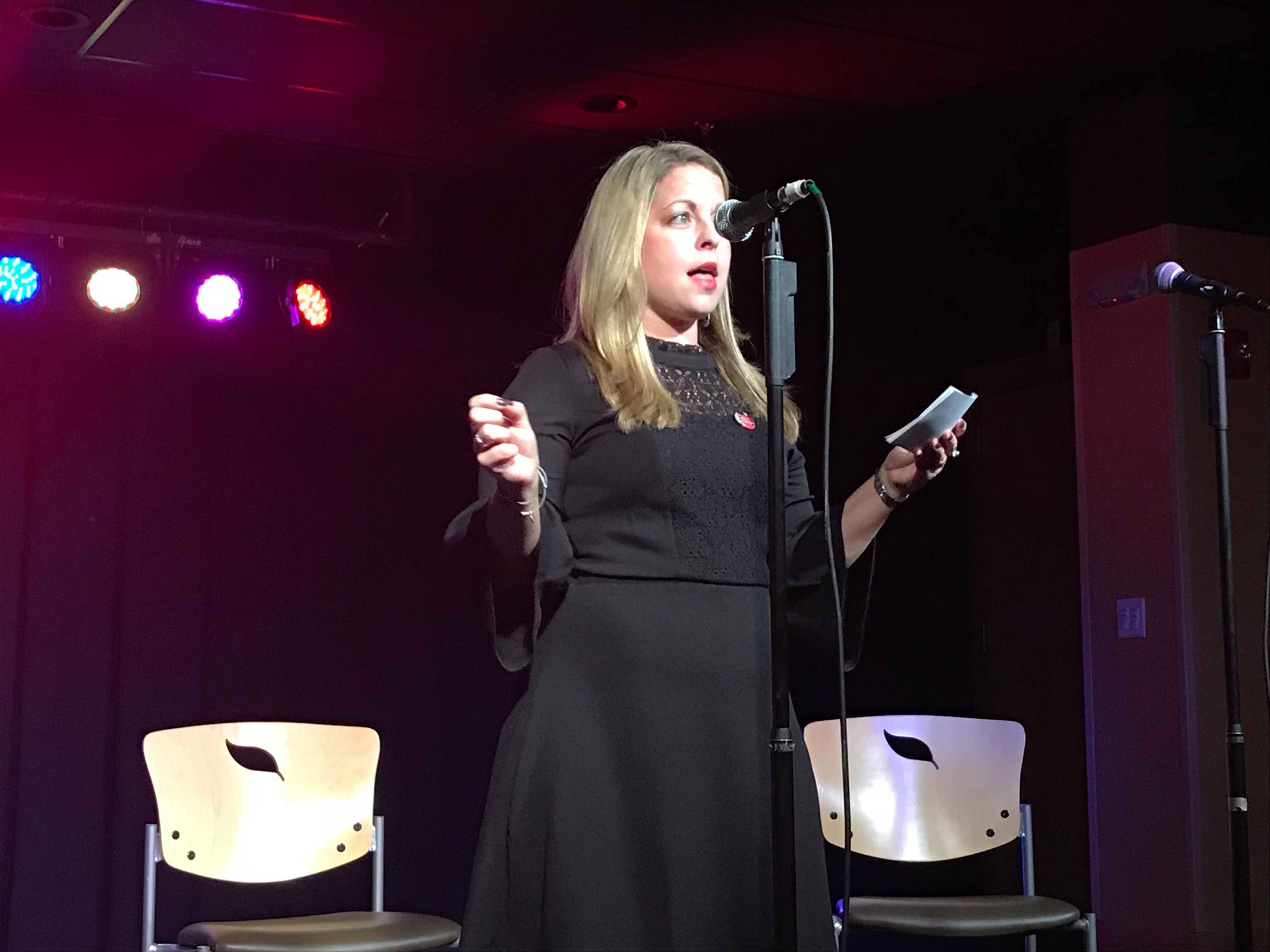 "This year I decided that I was going to put myself in a little bit of an uncomfortable position, but to support the program and to speak up," Sage said.
She found the audience to be very supportive when she got on stage, despite her fears.
Both Dube and Sage think the Vagina Monologues will return next year to celebrate the 21st anniversary.
"People don't talk about vaginas. That's the whole reason Eve [Ensler] did the interviews, and that's why we keep talking about them. Because it's been 20 years, and not much has changed," Dube said. "You see the 'Me Too' movement coming out. This is a very shrouded topic, like people's vaginas and themselves but also the hurt vaginas go through just existing in the world.