Generation Equality (GE) hosted their Fourth Annual Drag Show on February 10. Filling The Last Chapter Pub, more than 120 attendees and performers came for the show. Additional chairs had to be brought in to accommodate the large crowd.
Prior to the show, Dee Dube ('18), president of GE said, "This is our biggest year yet. We have over 20 performances, and we hope we get a big crowd and that everyone has fun. We also hope everyone feels loved and supported by each other. There are no professional drag performers here, so everyone should be very supportive of everyone else."
The Drag Show is an event renowned for bringing all types of people together in one space.
"[The show] is for people of all identities, body types, race… everything," said River Matis ('20), GE event planner. "Anyone can be whoever they want and everybody else loves it. It's wholesome."
Not only did Matis plan the show, they also performed two very different numbers. For the first, Matis appeared as Dr. Frank N. Furter from Rocky Horror Picture Show, which was fun and upbeat. For the second, they starred as Elizabeth Schuyler with a more emotional piece.
"Time flies on the stage; it's a thrilling experience," Matis said.
Some performers were veterans to drag shows, and others were first-time performers eager to strut their stuff.
Ericka Broderick ('18), a first-time performer debuting as both Angel Styles and Demigod Slayvato, said, "You get so worked up and then once you're on the stage, time goes so fast, and then it's over and you're like… Did that just happen?"
While the event is a night of entertainment and celebration, the importance of the event runs deeper for those performing and attending.
"I think it's important for the sake of representation to have a venue where people feel comfortable being any version of themselves that they want to be," said Mary Newton ('18), GE treasurer, who performed as Venus Flytrap. "[Even if you aren't performing] it's about showing support for your fellow students, in the same way you show up to a sporting event."
Performers wowed the crowd with their choices of songs and costumes. There was a wide range of performances, from High School Musical numbers, to "Into You" by Ariana Grande and even a song from Hamilton.
The drag outfits reflected the wide variety of performers and personalities. Opening and emceeing the show, drag queen Velvet (John Chapman-Frauwirth) made a statement in a large, pink, feathery headdress that reached toward the ceiling.
The audience reacted with loud cheers and claps every time a performer uncovered what they were wearing beneath various blankets, shawls and towels. Brian Nguyen, another show-stopper, gave three performances as Versa Chi Styles, showing off his skills with the death drop.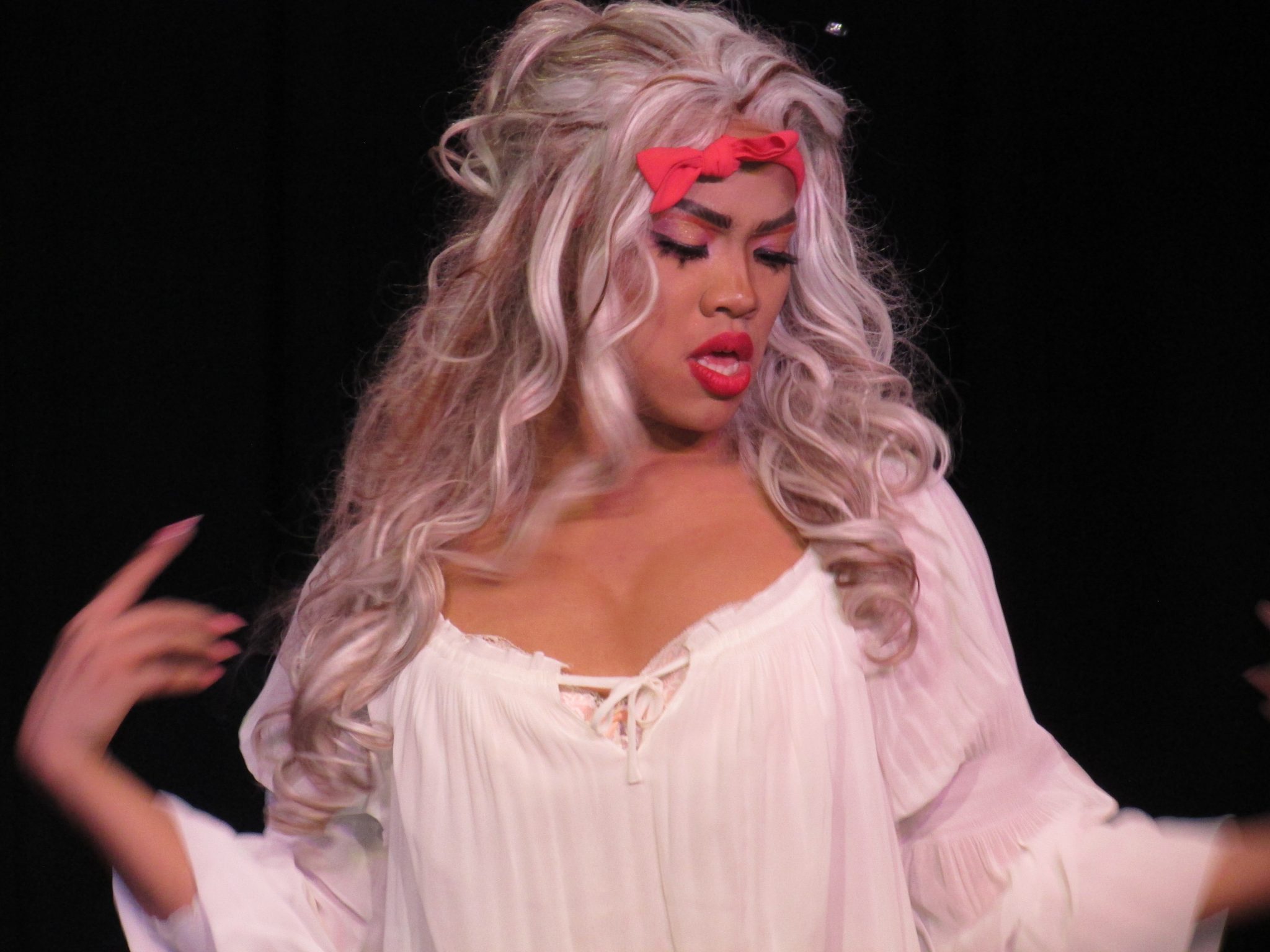 The excitement for the event and performances could be seen by everyone attending, especially those sitting in the "splash zone," the seats closest to the red carpet the performers were using. Audience members in this area consented to performers touching them and were visibly pleased when they received a high-five or other form of interaction.
For some performers, this celebration is more important now than ever due to the current political climate.
"I feel like recently, with the new administration in the White House, there has been lots of hate against people who are in the LGBTQ community, and I feel like an event like this on a campus that celebrates the LGBTQ community is great for having people get together and not be afraid to be themselves," said Richie Oliver ('18), who performed as Donna Goldstein in a comedy act.
The support of the performers for one another was evident within the backstage area, and the support of the crowd throughout the entire show gave the event an aura of acceptance.
"Audience members are the fuel to the fire of the show," said Matis. "Their screams, their cheers, their claps and their chants all fuel the performers' self-esteems and also their stage presences. No matter who you are or what you do, this event has something for you."