The Deborah L. Coffin Women's Center held the eighth annual Take Back the Night march on September 27 on the Green Space. Organized over the course of two months, Take Back the Night is an international event and non-profit organization with the mission of ending sexual assault and domestic violence in all forms.
Brooke Gilmore, director of the Women's Center, commented on the goals of the event and others like it.. "It is about reclaiming spaces, demonstrating power as a community, as individuals," Gilmore said. "This is a really important event to come together as a community under this important issue to demonstrate what our values are and demonstrate and what our commitment is to keeping this campus safe for everybody."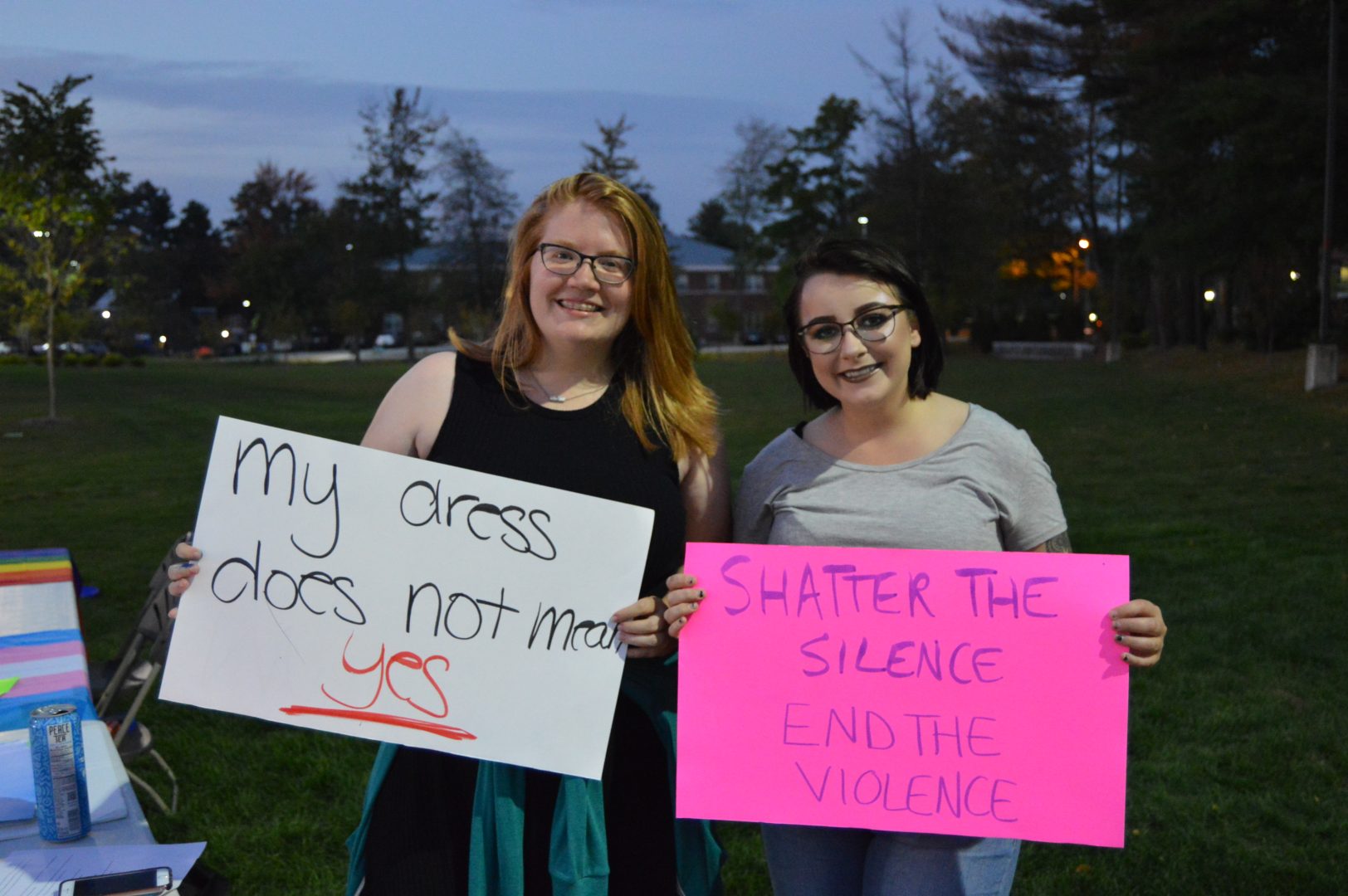 Co-sponsored by CAPE, Student Government Association (SGA), Generation Equality, Multicultural Student Union, Radio SNHU and the Wellness Center, Take Back the night began with performance from spoken word poet Olivia Gatwood while other events occurred including sign making and t-shirt decorating for the Clothesline project.
Gatwood's set covered topics such as sexual assault, as well as other aspects of womanhood. Her primary focus for these events, she said, is education. "I think sexual assault is an epidemic on college campuses, and a big reason it's an epidemic is because of a lack of education and understanding about what sexual assault looks like, what rape culture is and how it affects people," said Gatwood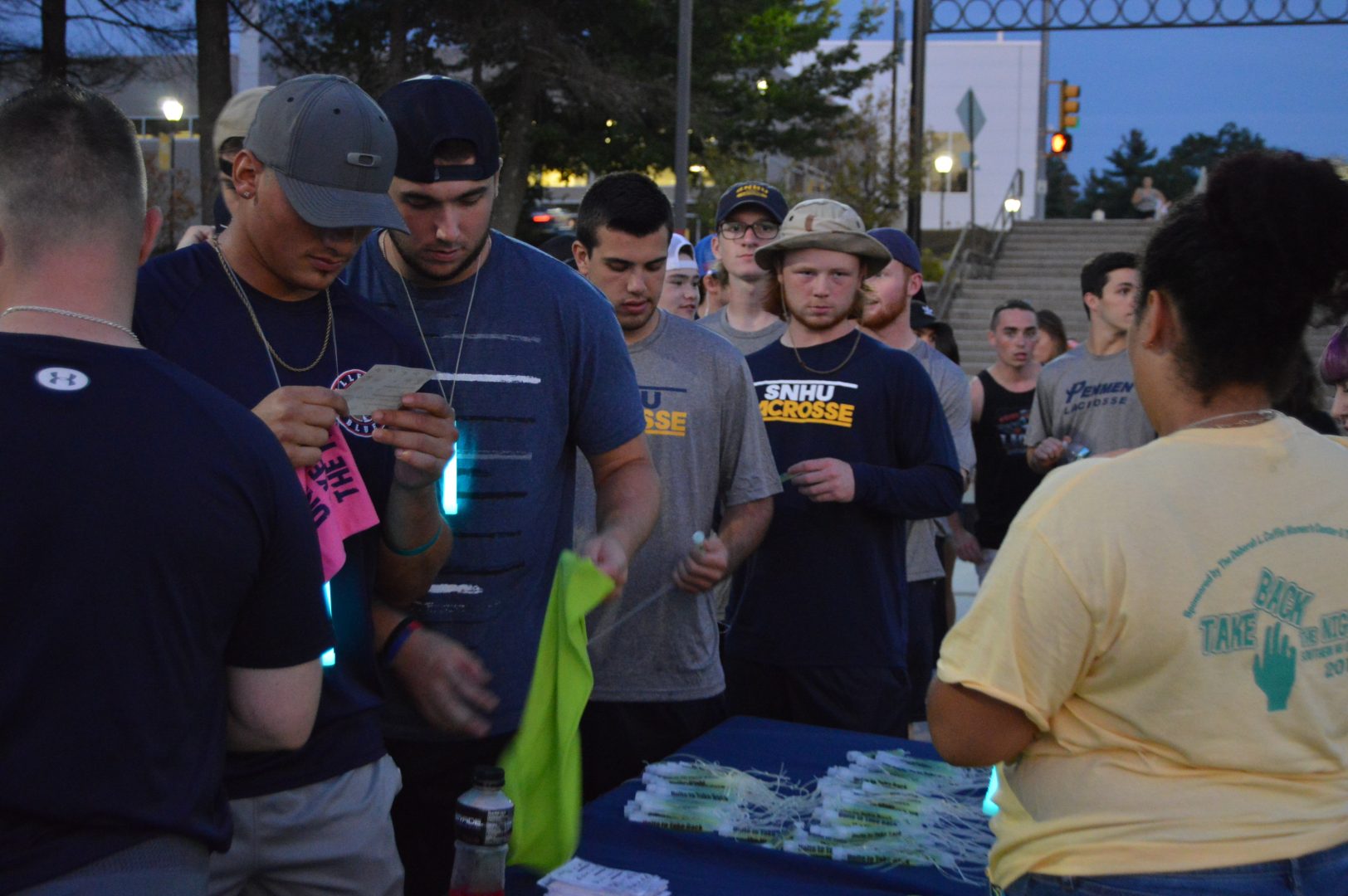 Olivia Conrad, senior and forward for the Women's Basketball team said Gatwood's poetry "was very powerful," reflective of lived experience and "was able to put everything into a real life perspective."
The march itself took place on the west side of campus a few minutes prior to 8 p.m. SGA led the march while carrying the Take Back the Night banner.
Women's Center student associate and senior Amy Mercedes helped plan and execute the event. "We have survivors that come in each year that are here on campus… so we need to create a space for them so they know that they are loved and supported," said Mercedes. This message was also reflected in the speech she gave to the campus community before the march began.
Participants shared their thoughts about the event after its conclusion.
Victoria Dean, sophomore and forward for the Women's Basketball team shared that the Women's Basketball team attends Take Back the Night every year. "We were here because we all feel strongly about this topic, and we thought that doing this together would show our support for the cause."
Senior Elle Tibbets also commented on the walk itself and the overall feeling of the event. "Walking the route with so many people from the SNHU community was awesome," said Tibbetts. "The turnout this year was spectacular. As leaders on campus we should be standing up for what we believe in, supporting those who feel out of options and uniting a community stronger than the sum of its parts."
The Women's Center and director Brooke Gilmore will continue to program throughout the semester and encourages all students to get involved. "All students are welcome in the Women's Center, and we are dedicated to raising awareness and to making SNHU a better, safer community," said Gilmore.